If someone can type this essay for me by tonight I'll pay them 200,000 credits.
Issue Research Assignment
Students are expected to interview 5 people to determine their views of the most urgent issues families face in today society. Prepare a list of questions (list should have 5-10 questions) to ask family and friends. Interview the family member, friend, associate, community leader, or neighbor to determine issues families face today. Prepare a paper 3-5 pages (including issues and the management tools/the way families handle these issues) that documents the summary results of the interviews, direction community family, and politicians must take, and your reflection of the data retrieved.
You have learned how to write using the MLA and APA format. Please make sure you follow the guidelines to APA to write this paper. I have listed the APA below. If you have any questions please email me or ask me when you come in to the class.
General APA Guidelines
Your essay should be typed, double-spaced on standard-sized paper (8.5" x 11") with 1" margins on all sides. You should use 10-12 pt. Times New Roman font or a similar font.
Include a page header in the upper right-hand of every page. To create a page header, type the first 2-3 words of the title of the paper, insert five spaces, then give the page number.
Major Paper Sections
Your essay should include four major sections: the Title Page, Abstract, Main Body, and References.
Title Page
Your title page should already include the page header (described above). On the first line of the title page flush-left, add a running head. Begin the running head with the words "Running Head" followed by a colon. Then give an abbreviated title of your paper in 50 characters or less in all caps. Note: Remember that the page header will appear on every page of your paper, whereas the running head will only appear on your title page.
In the upper half of the title page, type your full title, your byline (name[s]), and affiliation (university, etc.) centered on separate lines. Your title may take up one or two lines as in the example below: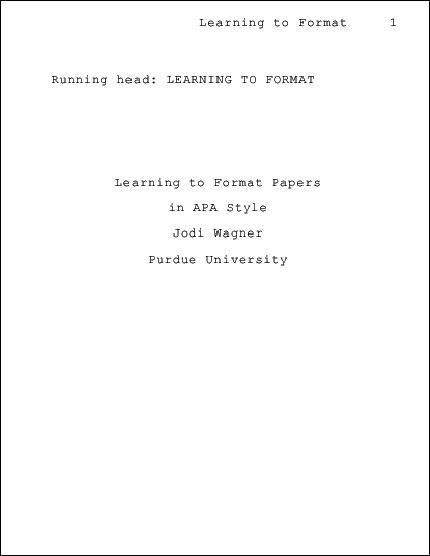 Abstract
Begin a new page. Your abstract page should already include the page header (described above). On the first line of the abstract page, center the word "Abstract" (otherwise unformatted, no bold, italics, underlining, or quotation marks).
Beginning with the next line, write a concise summary of the key points of your research. (Do not indent.) The abstract should be a single paragraph double-spaced of less than 120 words.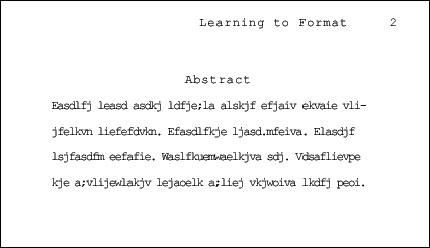 (Example)